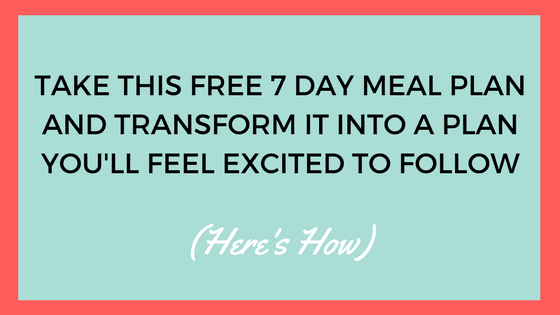 You really want a meal plan because you want all of the guess work and heavy thinking to be done for you. You know you need some accountability and you love motivation of a new challenge.
Now, online you can get hundreds of generic plans that are free or close to it,  so now's the time take full advantage and see and feel those amazing results those meal plans offer you.
The problem, the plans are generic.. which is fine for a one week weight loss challenge, a 7 day sugar detox or a five day kickstart program, but then what?
You're willing to follow it for a short amount of time, but in the long run, the program is too strict, it wants you to prep food for for hours and it's filled with foods you'd never really eat…worse off, it's often bland… You often say, "ok, I'll eat this if I have to" but once the plan is over you go back to the foods you love… and most of the time the unhealthy choices creep back in.
Weight loss is most definitely something on your mind, but this isn't just about weight loss.. This is about living a healthier life you can sustain. It's about feeling energized so you can enjoy your free time and most of all rid your body of aches and pains that processed sugars seam to exacerbate…
All is not lost, those generic plans have a purpose…
You can take any generic meal plan and with little effort turn it into a program you can follow for the rest of your life. There are 5 simple changes that will transform your meal plan (as it transforms your body) so that you can live a lighter, healthier life!
If you haven't already downloaded a generic meal plan online, download this one (It's free) so you can follow along and let's get a plan that works for  you, so you can get  results you can stick with for life!

1. Create a detailed list of your "Dealbreakers":
Scan the plan and pay special attention to your feelings. Does the cottage cheese on day 2 make you cringe? Or Maybe this is a plan that's taken out dairy… but you love dairy not only for the taste, but for bone strength.
What foods does this meal plan restrict? If you're asked to give up a certain food could you do it long term?  If you're saying "I could do it but just for now…." then that's your deal breaker and it's time to find an alternative
A part of a healthy meal plan includes knowing you'll get the results you want and feeling satisfied.. without deprivation. 
Often, after years of yo-yo dieting many women automatically associate any "good" meal plan with restriction.. but that's flawed thinking. It's time to rewire our thinking and enjoy life with the foods we love. 
2.  Swap it out: 
Find alternative swap outs before you begin the plan.
I had an amazing client that worked really hard at achieving her weight loss goals. She hated dairy and cottage cheese. She felt really disheartened that she just couldn't stay as strict with the plan as she would have liked because she was asked to eat foods she hated.. She also found it really difficult to give up her weekend wine. We sat down (it took 2 minutes because she knew what she liked. just like you know what you like) and we found healthy alternatives.
If you don't like the food: Swap it out for a food you do like within the same food "family"
If you hate apples, eat another fruit such as an oranges,
If you hate  salad swap it out for another vegetable alternative like a green smoothie.
If you hate peanut butter another seed or nut butter such as sesame seed butter,
If you hate all nuts then find a fat, protein and carb alternative. Dairy is a great option if you can eat it. (i.e a small yogurt, 1 ounce of cheese, a small glass of milk).
It's too time consuming: Find fast and quick meal options instead.
Mostly I see this with complicated breakfasts. Many of us get up and go. We don't have time to cook an elaborate omelette. Instead opt for 2 boiled eggs. You don't have to keep your eye on them while they cook.  Also, find quick and easy cereal. Just make sure it's got less than 5 grams of sugar per serving.
If you're really in a rush try a veggie protein shake like Vega. It gives you carbohydrates and protein on the go.
It creates a crash:  When you feel a crash or hungry soon after a meal, it's your body's way of saying it wasn't fed properly.  This tends to happen with high carb breakfasts (such as oatmeal) or after sugary snacks or pre-made energy bars. Make a mental note of foods that cause a crash and swap it out for another macro nutrient.
Oatmeal/carbs – swap for protein
fruits/bars – swap it out for hummus, nuts, veggies or dairy
no one knows your body better than you. So while on this 7 day meal plan make it a part of the challenge to ask yourself how you feel after every meal and swap out the foods accordingly.
4. Turn boring meals into Savory options:
most generic meal plans give you the basics. Fish is steamed or boiled, you'll see an abundance of salads, salads, SALADS. UGH! and not much else..  find one simple recipe that mimics the meal plan option. Don't feel afraid to add a minimal amount of fats. Also, Savory sauces create whole new meal options that you'll feel excited to make even after the plan is done. Here are a list of low to calorie condiments you can eat in abundance to create exciting meal alternatives:
hot sauce
Curry spices (Thai curry, cumin or tumeric)
vinegar (apple cider, white, wine vinegar)
mustard
horseradish
tomato sauce or paste (make sure there's no sugar added)
Soy sauce or tamari
Here Are Some no brainer food swap outs:
Tired of grilled chicken make chicken cacciatore
tired of steamed fish make Thai fish curry
tired of steamed vegetables or salads, try stir fried vegetables and the best part is  they're so low calorie you can eat them in abundance without gaining weight!
5. Get REAL about snacking and Know You're Never Wrong:
there are so many meal plans out there. None of them are right. They're just right for you and your lifestyle.. or really REALLY wrong.
Snacking is one of those controversial topics that all weight loss experts weigh in on. They tend to choose the side that worked for them and have the science to back up THEIR opinion… Guess what, you can find science to back up ANY opinion these days.. and the only opinion that really matters in your weight loss journey.. IS YOURS .. what works for you?
if your too busy to snack, you always feel too full to snack or you suffer an energy slump after a snack, then snacking is not for you..  and I can show you the science to back that up(this study shows that it doesn't matter if you snack or not, so do what you want)
Solution: Simply take the snacks out and move on..
If you feel starving if you miss a snack, if you feel low on energy without a snack or you find yourself binging at night because you've missed a snack then snacking is a must, no matter how busy you are… and I can show you the science to back it up(this study says there's no effect of snacking or not snacking so do what you want)
Solution: If time is an issue, but you feel worried you're going to eat too much later on, take your snacks and tack them on at the end of your meals. Once you've finished the meal plan serving you know you're done for the day.
The most important reason to transform a meal plan to fit YOU is to give yourself full permission to make changes to a plan without feeling restricted, guilty you're not following the plan correctly, or worried that you may not see results.
 You will absolutely lose weight, feel more energized and feel good in your own skin even with small changes to your plan.  and the best part is, you'l be able to maintain those amazing results because you will have created a plan you can stick with!