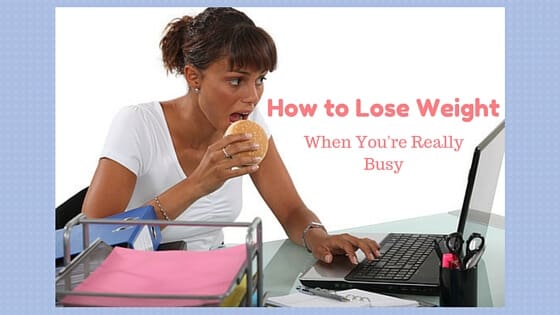 If you look back on all of those times you've tried to lose weight, I'm sure you'd see (not coincidentally) you've chosen to lose weight  when your life has had the most structure and the least amount of chaos. This  makes complete sense. You begin your program fully focused and ready to go because you feel that structured times in life hold the best opportunity to schedule in good eating and fitness plans to help you see serious results and stay on track.
While it does make the most sense to begin a weight loss program when we're at our most structured and focused, real life gets busy and unless we want to regain all of the weight we've worked so hard at losing, we've got to find ways to stay on track when late nights, sick kids and too many hours at work consume us and life get's too busy.
Here are some of the best ways you can stay on track of your weight loss goals even when you have a very busy lifestyle.
Know How Long You'll Move: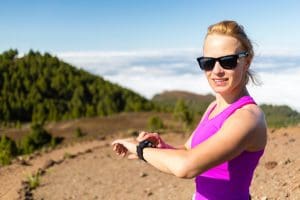 It's not enough to schedule  a workout. You have to know how long you want your workout to be. Most of all you have to be realistic. Just because you tell yourself you should be exercising an hour a day doesn't mean you have the time to do it. Instead of feeling guilty you're not setting aside more time to get fit understand that we all go through very busy periods that take away time from other aspects of life. It's not forever. It's just for right now.  Own it, and plan accordingly. whether it's a 5 minute workout, 10 minute workout or a 20 minute quick fitness routine, some exercise is always more beneficial than none at all. Once you've reached a quieter period, you can  add more fitness to your schedule.
Focus on Volumizing Foods: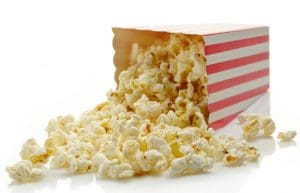 We all tend to fall into a very similar pattern.  Our days are so busy we barely have time to eat. When we do eat, we scarf  down our food quickly and  on the go. We don't have the time to ask ourselves how hungry we are, how full we are or if we've eaten enough.
When the day is finished and we begin to relax, and our hunger comes rushing back with vengeance. We'll eat anything and everything in site. We give in to huge portions, unhealthy treats and, absolutely anything we can get our hands!
This is when it's most important to have volumizing foods so we can eat as much as we want without the consequences of gaining any weight.
Volumizing meals  fill you up but contain very few calories.  In other words, you can eat as much as you'd like without weight gain!
As a good rule of thumb high fibre foods such as non starchy vegetables and proteins tend to be volumizing.
Below are three of my favorite volumizing foods that I make when I'm  famished and need to eat a lot (QUICKLY):
Quick Vegetable Soup: Boil bullion and add in non starchy vegetables such as broccoli, onions, cauliflower, zucchinni, cabbage, kale, spinach, dark leafy greens. To make the meal quickly use frozen vegetables. It's just as nutritious but it saves cutting and washing the vegetables.
Popcorn: Just 1 cup of no butter popcorn contains 53 calories. Now that's filling. If you need a bit of pizaz to your plain old popcorn add zero calorie toppings such as cinnamon for sweet or hot sauce for spicy.
Cauliflower puree: Just one cup of cauliflower puree contains 42 calories.  You could eat an entire head of pureed cauliflower and you wouldn't see a change in your weight.  Cauliflower puree works as a great mashed potato alternative. For added flavour blend one head of garlic, or use onion and garlic powder to taste. YUM!
Know Your Healthy Fast Food Options: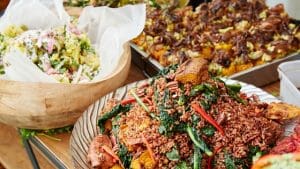 In an ideal world we'd have each healthy meal prepared in advance. Our freezer would be filled with healthy, ready to go options. But let's face it, even if we did have time in our busy schedule's to cook, sometimes we'd much prefer that moment to decompress and de-stress than to slave over a hot stove in the kitchen.
Things happen in life. We can't always plan every meal. So let's have a healthy plan in place so we know exactly how to reach our weight loss goals or to stay on track even if we aren't able (or willing) to cook.
Find healthy, nutrient dense fast food options you can pick up anywhere. (Especially around home and work). Keep a list of health options with you at all times. This way when you get stuck without a meal and your starving you know exactly where to go to pick up weight loss friendly meal options. YOUR SAVED YAY!
To make your life A LOT easier. I've put together a FREE Fast Food Guide for you. Including 31 healthy meals you can pick up anywhere PLUS  important tips to order from your favorite fast food choices. Here's the Download: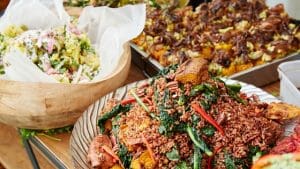 Take Advantage of Non-Exercise Movements: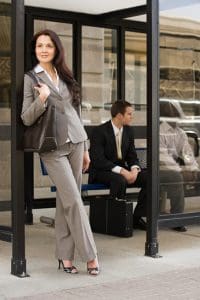 I speak so often about the importance of ALL movement in creating a calorie deficit, increasing our metabolism and most of all enhancing our quality of life. So, if you're so busy you have to forgo a workout, then fall back on accumulating enough movement to help you lose weight and get fit.
Wear fitness technology or a pedometer to calculate the amount of steps, the amount of stairs and the amount of moving you do in a day.  In order to gain health benefits and to burn more calories, do at least 10,000 steps in one day.
If you do get a workout in too, then even better! The more movement you do (In any shape or form) it always works in your favour! 
Did I miss something? Share Your Favorite Secrets to Lose Weight When You're Busy. Help the World Become a Fitter Place! Comment Below: