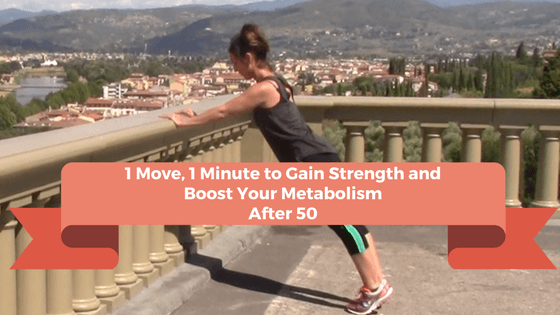 The best workout is quick and efficient. It get's you as many beneficial results as possible in as little time as possible. It also shows you how you've improving over time too,
After all, you want to be able to tangibly notice you're getting stronger and more toned. Otherwise what's the point, right?
This one exercise move has it all, it exercises  the entire body, and optionally it can be performed fast for cardio or slow for added resistance.
If you're just starting fitness again after a long hiatus this workout is perfect  because the results become obvious when option number one becomes too easy, you need to move up (or down in this case). 
The lower you perform the exercise to the ground,  the stronger you've become.
Of course with every exercise there's a secret double benefit.  Let's take a look at both benefits a bit more in depth:
A Strong Body Creates Energy to Move With Ease:
Have you ever had that moment when you were sitting outside on a step, or perhaps on a deep cushy sofa (you know, the kind where you sink deep, deep in). Then when it's time to stand, you raise your hand and ask the closest standing human for a little bit of assistance. If no one's in sight you start to rock back and forth to gain momentum before you rise. If your deep in that sofa, you hold on to the arm and grunt as you try to get up.
Now  what would it feel like to have the strength and the energy to pop up without a second thought? You felt light, it felt easy and there wasn't a waisted questions like "do I really have to get up?"
This exercise makes sitting to standing and from lying down to standing up a real effortless reality. This is the ultimate functional exercise that creates strength and stamina.
This full body exercise works absolutely every muscle in the body, from your legs, to abs, to arms to chest. All while it simultaneously teaches your body to move in unison. It's functional, it makes you strong and it get's you fit.
A Fast Metabolism and Smaller Waist:
By doing this full body exercise you'll begin to increase your lean muscle throughout your entire body. Since muscle boosts the metabolism, the more lean muscle you have globally the more muscle you'll have to help you rev up your metabolism and greatly decrease fat stores, even in the tummy.
Form is the most important element. Begin by perfecting form by going slow and steady. Then, if you're up for the challenge and you can keep your form, try doing the following exercise at a fast tempo. This turns the exercise into  High Intensity Interval training (HIIT), a cardio exercise performed in short bursts of vigorous intensity. High intensity intervals are linked to an increased fat oxidation that specifically reduces belly fat.
(To see if high intensity is right for you, check out this researched review I published for The Huffington Post that will give you the info you need to either add HIIT or avoid it).
The Starter's Burpee:
Whether you're just starting out, or you want to me protect your knees, this burpee is the perfect option. It requires a reduced range of motion that is easier on the knees and shoulders, while still toning the muscles and revving up the heart rate.
Stand tall, place your hands on the top of your bottom and gently arch the back, lifting the chest towards the sky
Then, lean forward, place your hands on the back of a couch, a high railing or kitchen counter top. Hands directly under shoulders.
Step one leg back followed by the other and then immediately step your feet back in as you place your hands back on the top part of your bottom and arch the back
Repeat for 1 minute
For a higher impact option jump your feet in and out instead of stepping them in and out.
As this exercise get's easier and easier over time, search for slightly lower surfaces to place your hands. Over time you'll finally reach the ground for the advanced option.
The Advanced Burpee:
The full body movement creates lean muscle that revs up your metabolism, burning even more calories, combating extra fat stores and  blasting unwanted belly fat.
Squat down and place your hands on the floor in front of you, just outside of your feet.
Jump or step both feet back  so your'e in a plank position
Then jump or step the feet back in toward the hands
Stand up reaching your arms straight overhead
Repeat for 1 minute
One minute and that's it! You'll begin to create lean muscle throughout your body, rev up the metabolism, and if you're performing this move at a higher speed, you'll also be specifically targeting belly fat by performing a high intensity interval.