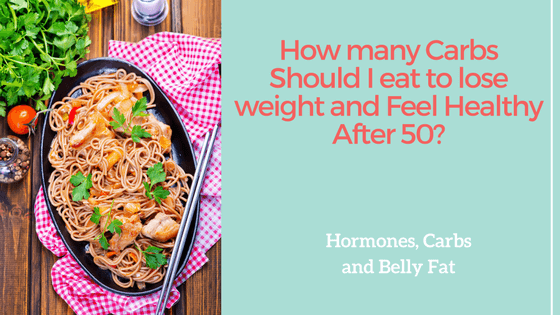 Whether you're just starting out  or you've been trying for a while to lose weight (especially the stubborn belly weight that slowly crept up around menopause) one thing is really clear, the time is now to make some major changes and get your body back.
In your search to get things moving in the right direction and finally see consistent results (even a 5 pound drop on the scale would really spark your motivation), you wonder if there's some truth to the low carb, or even ketogenic diets that promise to help you lose weight quickly without counting calories or complicated meal plans.
It's hard to know what to believe because every "weight loss expert" whether they believe in low carb, high carb or somewhere in the middle shows you how their meal plan got them rock hard abs and quick results.
The truth is, it worked for them because different nutrition plans work for different people.
And of course different people see different results on very different plans. We are all so unique.
This is especially true for  women after 50 because fluctuating hormones dictate your weight.
Estrogen isn't the only hormone that becomes unbalanced. There's a huge  shift in many other hormones that affect your  your metabolism and your waistline, and  there's  also a relationship between these hormones, and how they interact with the food you eat (especially carbohydrates) which can definitely create hard to get rid of belly fat.
Today you'll learn whether a low carb, a ketogenic or moderate carb meal plan is best specifically for you and your hormones and your current health. This way you can make an informed decision based on the only person that matters, YOU. 
Are you ready? Let's get started:
3 Types of Carb Meal Plans: 
In order to know exactly how many carbohydrates you'll eat for each plan, here is a quick definition designed by the American Diabetes Association; NHANES, National Health and Nutrition Examination Survey
Ketogenic: Your daily Carbohydrate quantity ranges from approximately  20–50 grams depending on your total calorie needs. It equates to less than 10 percent of your total calories.
This very low carbohydrate meal plan has been popularized by the Atkins diet, Protein Power and now more recently plans that have actually taken on the name, Ketogenic Diet.
While some plans restrict all carbohydrates including vegetables(at least within the first phase of a multi phase plan), other plans explain that vegetables are more than acceptable due to their lower carb count.
Low Carb: Less than 130 grams of carbs per day. That defines the low carbohydrate diet. This equates to less than 26percent of your total energy needs.
Moderate Carb:  For Moderate-Carbohydrate Diets, your carbohydrates range from  26 percent to 45 percent of your total calorie needs and begins at 130 grams of carbohydrates per day. This is the recommended minimum in order to ensure your brain gets enough glucose to function properly.
If you love learning how much to eat for your specific body, Click here to discover your specific protein needs

A very Important Side Note:
Before the obesity epidemic,  the average carbohydrate intake reached the upper limit of a moderate carbohydrate diet and women were healthy and maintained a healthy body weight. (On average 43 percent of energy needs came from carbohydrates).
After 1974 there was a huge increase in carbohydrate consumption and with it came an overall increase calories. In many cases carbohydrates aren't the enemy, it's the fact that we over eat them that expands the waistline.
ACTION PLAN #1:
Sometimes the simplest answer is  best. Before trying a low ketogenic or low carb diets, first try reducing your carbohydrate intake to 26 percent of your total calorie needs (about 130 grams per day). If after 2 weeks there's no change in your weight or your health, it may be time to look at these carbohydrate, health and hormone interactions. 
When You Should Cut Down on Carbs: Hormones, Health and Belly fat
While over-eating carbohydrates will definitely add pounds, there are certain hormones that will specifically target your belly, increasing visceral fat (belly fat) and may drastically expand your waistline.  There are also some health conditions that definitely merit a closer look at low carb and ketogenic diets. These are:
Insulin
Alzheimer's, Epilepsy and neurodegenerative disorders
Insulin:  Type II diabetes, Insulin Resistance and Metabolic syndrome
Too much insulin signals the body to store fat around the belly. What makes this worse is the belly fat increases your insulin resistance too.  It's a viscous cycle where more insulin creates greater insulin resistance, more insulin resistance creates even more belly fat, and more belly fat produces more and more insulin resistance.
The end result is not only a huge expansion in the waistline, but also a greater risk of type II diabetes and metabolic syndrome. 
When it comes to high insulin levels, or if you currently suffer from type II diabetes or metabolic syndrome, while research is still fairly new, some studies  show that very low carbohydrate diets or ketogenic diets may work more effectively than moderate carbohydrate diets at increasing insulin sensitivity, decreasing insulin resistance and helping the body use glucose . 
In other words, your body learns how to regulate insulin better, your insulin levels would return to normal, you'd greatly reduce your risks of disease (and of course you'd begin to  shrink away stubborn belly fat).
Alzheimer's, Epilepsy and Your Increased Risk After 50: 
Does alzheimer's or dimentia run in your family? Have you been diagnosed with epilepsy, Parkinsons or other neurodegenerative diseases?
If so, ask your health care provider about trying a safe Ketogenic diet.
The Ketogenic diet has been used as far back as the  1920's to treat severe epilepsy in children (now that's alot of research). In 40 percent of cases, seizures diminished by more than half. 
This lead to more research on other neurodegenerative diseases such as Alzheimer's, Dimentia, Parkinsons and even ALS. All with favourable results showing Ketogenic diets may help with loss of memory and improve symptoms of these neurodegenerative diseases.
If you love learning how much to eat for your specific body, Click here to discover your specific protein needs

When Cutting Down on Carbs Increases Belly Fat and Makes You Unhealthy: 
While some some hormones and health issues respond to  low carb or Ketogenic diets, other hormone interactions create greater hormone imbalance which quickly expands belly fat and may make you sick.  These are:
Cortisol (stress hormone)
T3 hormones (Thyroid hormones/hypothyroidism)
Cortisol/Stress and The Carb Belly Fat Connection: 
During low carbohydrate or Ketogenic diets, your body creates your much needed energy source, glucose, through a process called Gluconeogenesis.
In this state, in order to get glucose, your body breaks down protein and fat to create your must have energy source.
Cortisol provides your protein needs during this process by breaking down protein within the body during gluconeogenesis.
Studies show that low carbohydrate diets spike your cortisol more than any other diet, including the low fat diet, the moderate carbohydrate diet and the high carbohydrate diet.
In other words, your stress hormone spikes and if you already have a lot of stress in your life, you suffer from anxiety or you've been diagnosed with Adrenal Fatigue, the low carb diets will create further hormonal imbalances, adding to your anxiety and expanding your belly. 
Cortisol sends signals to store more belly fat because this type of fat is our most easily available energy source. while that doesn't matter in our day and age, when our ancestors were stressed out running away from wolves or tigers your survival counted on easy energy to escape.
Cortisol also affects insulin levels, making you more susceptible to insulin resistance, type II diabetes and metabolic syndrome.
And if that weren't enough, cortisol breaks down muscle (your best fat burning system and the source of your strength) because muscle is protein and on low carb or ketogenic diets cortisol breaks down protein for energy.
Thyroid Hormones Weight Gain and The Carb Connection: 
Thyroid hormones regulate your metabolism, and if you suffer from hypothyroidism, you already know weight gain is a major symptom. Not only do you gain weight more easily, but it becomes so much harder to lose.
Your thyroid hormones also play an important role in glucose metabolism .  The amount of carbs you eat also effects your thyroid because carbohydrates regulate thyroid hormones.
In other words, too few carbs and your thyroid doesn't function properly.
There are many thyroid hormones in your body, but the most active and the one in charge of most of the metabolic effects is known as T3 (triiodothyronine) and very low carbohydrate/Ketogenic diets may reduce your  T3 hormone levels. 
If you currently have hypothyroidism, or you're concerned with a family history of hypothyroidism,  you may need to avoid a Ketogenic diet and stick with more than 50 grams of carbohydrates per day.
In order to feel confident your consuming enough, I would personally eat no fewer than 130grams per day. 
There is no right or wrong answer when deciding to  follow a Ketogenic, low carb or moderate carb diet, there's only what's right for you. If you're losing weight in a healthy way for your body and you know without a doubt you can sustain your plan long term, then you're on the right track to becoming your healthiest most vibrant self and that's all that matters.
If you love learning how much to eat for your specific body, Click here to discover your specific protein needs