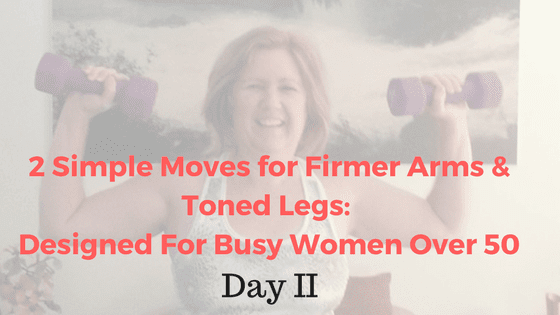 You're feeling really motivated to get fit and you want to do something quick each and everyday.  You could do the exact same workout daily, but the problem is you're exercising the same muscles, which leads to arthritic flare ups, overuse injuries and pain. This is the exact OPPOSITE  result you were hoping for… So what can you do to feel and look your most fit after 50 without the risk of injury? Do Yesterday's blog post as your workout for  day I and do this workout on day II.  Swap back and forth between these two quick and easy exercise routines to give your muscles  time to heal and repair. It's during the healing process that you repair muscle fibres that lead to a faster burning metabolism, greater strength and a trimmer fitter body. Give it a try: Want just one workout? This exercise routine specifically targets the back of your arms and your legs. You can do this as a stand alone fitness routine too.
Triceps: 
Otherwise known as the "wobbly region" or "bat wings" the area on the back of the arm is one of the most popular to tone for women over 50. As you age, the mesh that holds the fat tightly against the arm begins to lose elasticity and it may get saggy. When you exercise these muscles, as well as eat a healthy nutrition plan, you'll begin shrink away fat as you firm up the back of the arm. 
The Squat: 
Congratulations! If you bent over to pick up the weights from the floor, you've officially done a squat. This leg exercise engages almost every muscle in your body, from legs muscles to inner thighs to tummy muscles and postural back muscles too. And since muscle is the fire that burns fat, the more muscle you use, the more you burn. The squat is also the most valuable exercise to enhance quality of life. Every activity you partake in, from standing or sitting down to picking up grocery bags or weights (or even a grandchild or two) all involve the squat. So by adding squats into your quick workout routine, not only will you burn away fat, you'll make the activities that used to  feel easy, feel effortless once again. 
The workout: 
Overhead Triceps Extension: 
Hold on to the heavy part of a weight. Palms face in.
Place the weight behind your head. Your arms stay close to your ears.
Then, punch the weight straight up. Keep a slight bend in the elbow to protect the joint.
Slowly lower the weight behind your head once again.
Repeat 10- 15 times
The Squat
Stand with feet shoulder width apart as you hold a weight in both hands.
Then, sit down. Weight in heels as your bottom pushes back. Go as low as you feel comfortable.
To rise, push weight in heels, squeeze your bottom and stand. Squeeze your shoulder blades together to maintain perfect posture.