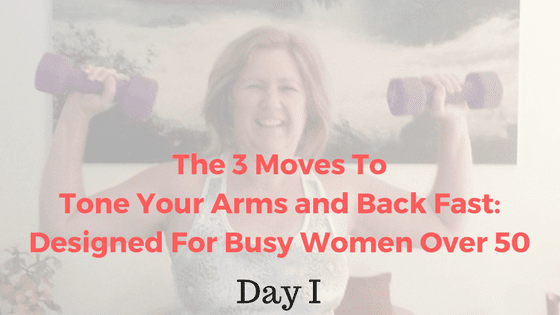 You can achieve Firm,toned arms and a svelte back without spending hours exercising! it only takes 3 simple moves.
Place a set of 5lb, 7lb or 10lb weights by the door. That way you'll feel motivated to lift them before you go out. This workout is so fast you can fit this plan into any busy schedule so you can achieve results you can sustain.. plus, they have other added benefits too. Check it out:
Row:
This exercise not only tones your back, but it fires up the metabolism by using a huge amount of muscle.
The back is made up of 77 muscles in three distinct layers. By bending over and keeping proper posture during this exercise, as well as performing this exercise, you activate a huge amount of muscle. Since muscle  is the main calorie burner, the more muscle you activate, the more you rev up your metabolism, making this exercise a powerful fat burning must do!
Bicep Curls:
Bicep curls shape your arms beautifully, but they  have a functional purpose too. They make daily tasks seem effortless. Specifically grocery shopping (holding your shopping bag) mimics the exact movement of a bicep curl.   Don't feel afraid to lift heavy for this one; while grocery bags once only weighed 10 pounds, the newer and reusable versions can be a whopping 28 to 38 pounds! This gives you a good goal to work towards
Overhead Press:
Nicely toned shoulders not only make your arms look sleek, the added definition also makes your waist look smaller! It's a bonus! When doing this exercise, make sure to punch your arms straight up. The shoulder is a floating joint that works like a hinge. When you lift your arm up and in towards centre, you risk catching the tendons between your arm bone (the humerus) and your clavicle (the AC joint) and injuring the shoulder.
The Workout:
Do each exercise as a circuit, one exercise  followed by the other. Repeat for 1-3 sets.
Row:
Stand one leg in front of the other.
 Tip from the hips creating a straight line from the top of your head to your tailbone.
Straighten your arm towards the ground while holding a weight.
 Squeeze shoulder blades together  as you slide arms along your sides and lift the weight up.
 Repeat 10-15 times.
Bicep Curls:
Stand up straight, one leg in front of the other with a weight in each hand.
Straighten your arms, palms face out. Keep your elbows close to your torso.
 Exhale as you bend your arms curling the weights towards the top of your shoulder.
Then, inhale and slowly begin to lower the dumbbells back down
Repeat 10-15 times
Overhead press:
Stand with your feet shoulder width apart holding a weight in each hand, palms facing out.
Press both dumbbells up until the weights are overhead and your arms are straight.
Then lower your arms as you squeeze your shoulder blades together until you create two 90 degree angles with your arms, weights by your head.
Repeat 10-15 times