What would it do for your life to start an exercise program you felt excited to stick with forever?
The energy, the strength and the confidence that  staying consistent with exercise can bring you is wonderful,
But, it's often overshadowed by the reluctance to put yourself through what you believe you'll  have to go through to get those amazing results.
The "no pain no gain" mindset.
The mindset that:
if it's not hard
if it doesn't hurt
if you don't force yourself to push through the pain (despite feeling breathless, feeling nauseous and hot in the face)
Then you're doing it all wrong, you won't get results and you should feel defeated for letting yourself go.
It's the  mindset that years of crazy weight loss fads and hardcore fitness images have created that's the real issue
That's the real reason many don't stick to an exercise program that creates lasting weight loss, lasting strength and ongoing energy for a lifetime. 
Because they think it has to be painful, hard and a downright punishment if they want to get results. That's just not true.
So, if you've ever felt that you could start an exercise program but you haven't been able to stay consistent and follow through
You've lost count on how many times you've started and stopped an exercise plan
And slowly it's eroded your trust that there is actually a solution you can stick with
Then today you're in luck, because I'm going to show you how to flip the "no pain, no gain" starter's workout program into a doable, enjoyable exercise plan that you can stick with permanently for lasting weight loss over 50.
Avoid High Intensity Interval Training and Huff Puff Workouts At First: Do Strength Training Instead
High intensity interval training has gained in popularity due it's powerful ability to blast menopause related belly fat (depending on some women's hormone levels). It's also incredibly time efficient. You only need to workout for anywhere from 10 -20 minutes (including warm up and cool down.)
But, when you start an exercise program after  a long time off, I don't recommend you do this type of workout at first.
Why, because:
You may already be doing high intensity intervals throughout your day and you don't even know it:
Do you walk up a flight of stairs and get winded?
Do you move furniture when you vacuum, or when redecorating and feel breathless by the end?
If the answer is yes, then congratulations, you're already doing high intensity intervals. 
 You got your heart rate up for a short bout of all-out intensity (a heart rate of 80 percent and above).
You may have done this multiple times throughout your day.
So you've already done it.
Since many women don't have hours to spend on an exercise plan, be efficient. Start with activities that will increase lean muscle, to create more strength and fat loss over 50. 
Avoid high intensity interval training at first if you've started with it in the Past:
If huff puff workouts were how you started with fitness in the past, only to fall off track, why start with this type of workout again?
It takes a lot of motivation to stay consistent at first with high intensity interval training and the littlest reason could derail your exercise attempts:
You're exhausted at the end of the day and can't bare to do the workout
you didn't sleep well
you're really sore or tired from last time's HIIT workout (and not good sore, more like if you keep this up, you'll overtrain)
You just don't enjoy pushing yourself to the limits unless you have a coach watching you
If you've fallen off track for any of these reasons in the past, then it's time to ditch the high intensity interval training and focus on what will give you the most efficient strength and weight loss results with the minimum amount of effort.
That's strength training. It builds back the lean muscle that declines with age, and that lean muscle is what burns fat even while at rest. It is the number one must add exercise strategy for weight loss over 50
Plus at first while you're learning how to move, it feels easy and doable even if you're feeling tired, you haven't slept well, you're experiencing a hot flash or you need a time efficient workout.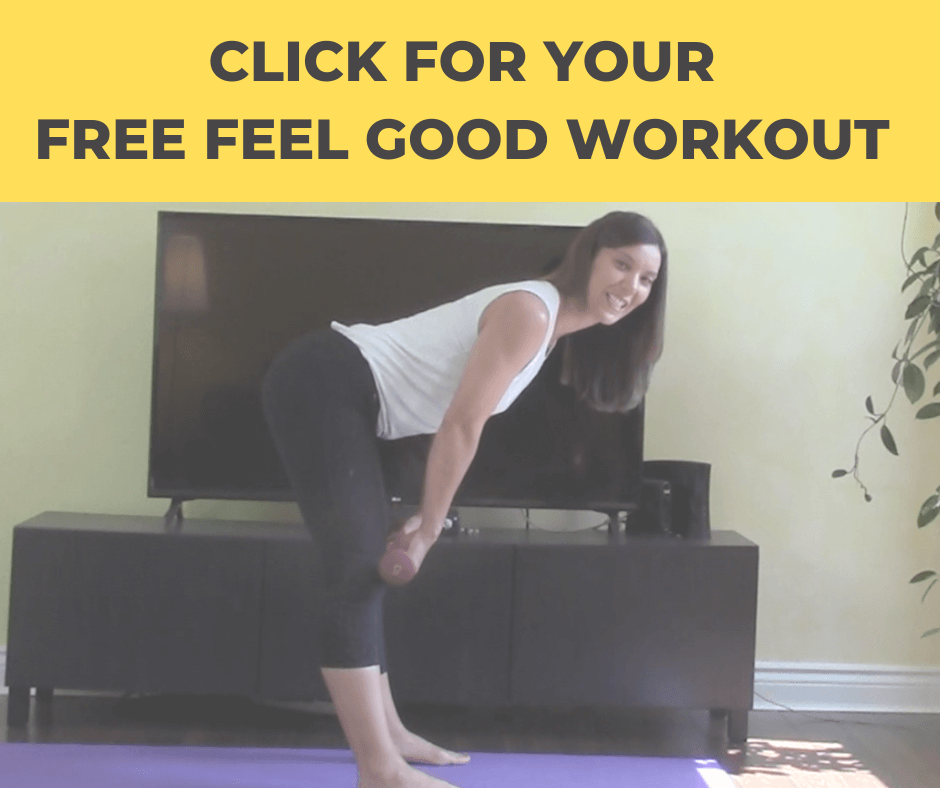 Change the Mindset that Mini Arms, Abs and Inner Thigh Workouts Will Get you The Best Results
Do Full Body Instead:
Training your arms will not reduce "bat wings" and training your inner thighs won't firm up fat around the legs.
If the end goal is to melt inches off your midsection and  tone your body, the only way to that is with full body weight training.
In order to burn fat, you need more muscle. Arms and inner thighs constitute just a small amount of muscle compared to your whole leg, your back and even your chest.
So, while it may seem strange to start an exercise program for your whole body to reduce arm fat, it really is the best plan.
An arm can be beautifully sculpted but if you've got fat deposits over top, you'd never know.
So when you do full body, you're covering your bases, toning these areas, but you're also eliminating fat by revving up your fat burning metabolism.
When you start an exercise plan, you may want something quick and easy, so find a 10 minute full body strength training workout.
Or you can do short 2-5 minutes spurts of exercise that focus on one specific area per mini workout session (i.e legs workout in the morning, back in the afternoon, arms and abs in the evening)
By swapping your mini arms and inner thigh workouts for full body workouts instead, soon you'll proudly wear your tank tops.
Stop Planning Daily Exercise: Plan for a Minimum Workout Amount Instead
 How many times have you said I'll workout everyday, and then when something's come up, you feel disappointed with yourself when you couldn't "stay on track".
If you have the time and motivation to do something everyday, then do it, but don't set yourself up for failure by setting big goals that may not be realistic for your lifestyle.
Instead, when you start a exercise plan set a minimum amount of days you can 100% commit to (I suggest 2-3 days per week at first).
If you end up doing more, great!
Yet, on weeks when life gets  really busy, and daily workouts just aren't possible,  you're shifting your mindset to feel proud of  your workout accomplishments, instead of beating yourself up if you fall off track.
The minimum matters so much more when you start an exercise plan for lasting weight loss over 50. It creates a new positive mindset around your workout routine, and that's the real secret to creating lasting energy, strength and weight loss over 50.