Today we're doing lower back exercises that both strengthen and stretch the low back. 
This could help reduce and prevent back pain! 
It also keeps your posture looking tall. 
It's a win all around.
Are you Unknowingly Increasing Your Risk for Back Injury? 
Did you know that 80% of adults experience low back pain over their lifetime. Statistically,  it's also the  leading contributor to missed work days or sick leave. 
No one wants to be on the sidelines watching as life passes you by.  Yet, without even realizing it, you may be unknowingly increasing your risk for back pain, and back injury.
Long bouts of inactivity followed by bursts of activity  greatly increase your risk for back injury and back pain.
Let's take winter as an example.
During the winter seasons you may put your long walks on hold.
You may be less active in general because it's cold, wet or rainy.
You're sitting for work, you sit when you drive, but suddenly spring appears! 
You start lifting heavy bags of dirt for gardening, you shovel, or, in my case, you start to bike ride.
Because the body wasn't properly prepared for new twists and turns, heavy lifting, or forward bends, the muscles are both stiff and weak.
This creates the perfect storm for back pain,  increased back tightness, or worse, 'throwing your back out' completely. 
What Can You Do to Reduce Your Risk of Back Injury and Back Pain?
If bouts of inactivity increase your risk of back pain and injury, then, you guessed it, staying active is the key to preventing it.
These findings were also revealed in a huge  systemic review and meta-analysis study of over 30,000 participants.
The study combined all of the data surrounding the subject of low back pain prevention and sick leave due to back pain.
The findings revealed that exercising just 2 or 3 times per week could reduce your risk of back pain by as much as 35 percent.
It also had a huge effect on sick leave. The amount of days taken off work was reduced by 78 percent.
Here's the important factor: for exercise to remain preventative against future low back pain, it has to be ongoing. 
In other words, you've got to continue to stretch and strengthen the back throughout the year, even when back pain or back injury is no longer present.
Get Quick Workouts Delivered Right to Your Inbox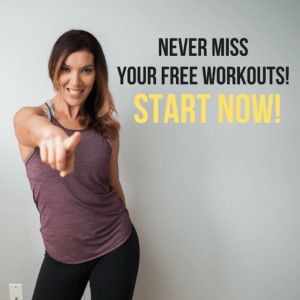 Why Your Back Needs Length, and Strength: 
Stretching feels amazing, but inside the body, it's doing so much more.
It creates long, mobile and strong muscles, because stretched muscles are able to move, contract and lengthen within their natural range of motion.
When muscles are tight, they become shorter, constricted and as a result, they lose strength.
Stretching increases your mobility, but it creates a strong, injury free back too.
When it comes to back strengthening exercises, they often get overlooked.
Often there's a focus on strengthening the abs in order to pull in the tummy and help lighten the back's workload.
While ab exercises are vital for back health, the focus may end up solely on strengthening the abs while stretching but not strengthening the lower back (because stretching feels so good, especially if you're tight and sore)
In reality this creates yet another type of injury:  muscular imbalances….
Add only a few back strengthening exercises to your already amazing ab strengthening and back stretching routine and that's when you really begin to take control of your back pain and injury prevention.
(and if you're not already doing and ab routine, here's a great one to get started).
Muscle strengthening creates strong muscles that hold the spine, back and hips in proper alignment, which reduces your risk of back pain and injury.
ok, now that you know all of the fun facts about pain and injury prevention for your back, are you ready to workout? 
For this workout, you'll need nothing but your body weight.
Let's Get Started!!!
Sources: