It's holiday season! (Like I needed to tell you)… Do you need some workout motivation?
The holidays can be a tough time to stay consistent with workouts. It's also not a time you're thinking of beginning a new fitness or weight loss regime either.
I understand. Of course it's hard to muster up the motivation to workout when you're getting ready for the busy holidays, enjoying the family  celebrations, having family stay over, the kids return home, or  the grandbabies need presents. The list never ends!
The point is, The holiday season doesn't usually spark workout motivation does it?
Until now!
The goal of the information I'm about to share with you is two fold:
To show you how little you need to workout to burn fat, increase your strength and improve your health drastically (no joke!)
To spark you motivation to get fit or stay fit during the holidays
Are you ready!? Let's get started!
If This Doesn't Spark your Motivation, I Don't Know What Will: 
Weight training just one time a week has the power to reduce your risk for a heart attack or stroke by 40 to 70 percent, according to a new study conducted on nearly 13,0000 people.  
(I haven't gotten to the inspirational point yet, but I promise I'm getting to it very soon).
The results published in  Medicine and Science in Sports and Exercise were independent of cardio.
That  means, that in order to get a reduced risk of heart disease and stroke by up to 70 percent,  you do NOT have to spend hours doing the  recommended guidelines of 150 minutes of aerobic physical activity (cardio).
It's independent of whether you decide to do cardio or not. 
Another huge reveal of this  study showed that more than an hour of weight training per week had  no extra benefit.
More isn't better. You just need a little.
Here's why this information is so powerful:
For years you may have heard that with age, in order to burn more fat, lose weight and increase your strength, you've got to increase your lean muscle. In order to do that, the you've got to lift weights. 
BUT NO ONE WAS SPEAKING PUBLICLY ABOUT THE HEALTH BENEFITS OF WEIGHT TRAINING FOR YOUR HEART..
So why should this information spark your workout motivation?
Because for  women over 50 who want to lose weight and achieve optimal health, but who can't quite motivate themselves  to get started or to keep on going on their fitness journey either because:
They're wondering "how the heck am I going to find the time?"
They hate the thought of huff puff cardio workouts,
They don't want to do their summer walk routine once the weather gets bad
Can't get motivated in general!
To know that you could reduce your risk of heart attack and stroke by up to  70 percent, increase your strength, your bone density and burn fat (even at rest) with just one bout of weight training, one time a week, well, that opens up a world of possibilities!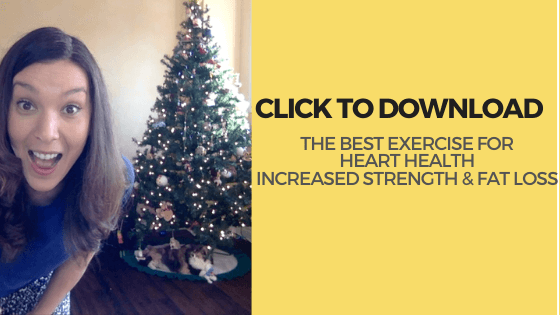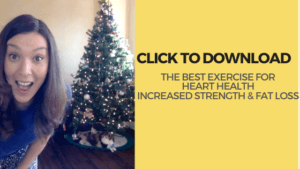 It means you don't have to use up all of your energy, all of your time, and hours worth of efforts to get results. 
Weight training opens up your ability to live life on your terms.
Here are just a few ways you can achieve heart health, increased strength and fat loss: 
You can squeeze just one workout move into your busy day and get results (yup, this study shows that 1 exercise alone had the power to impact your health)
You can do a few bicep curls with your heavy Christmas shopping bags
You can do a quick set of rows with the heavy turkey you're putting into the oven
Getting the health benefits, the strength and the fat loss results through exercise can be  easily doable inside of your home and done at any time..
Here's the last big reason this information is so impactful:
Especially over 50 weight training is THE most powerful piece of the puzzle, not only to lose fat, increase strength and bone density, but to protect your heart. 
So, if you're short on time, on energy, on space, knowing that it only takes a little to achieve alot of benefit, is life changing!
If  You Have time for Just One Exercise a Week, Try this:
I created a FREE one move weight training workout to improve your heart health, increase your strength and burn fat, even while you rest. Go to: aliciajoneshealthyliving.com/weights  to start your workout. OR click the image below: