Today's a special workout because this workout will help you make your upper body feel firmer and stronger, but at the same time, you'll be testing yourself to find out the exact size of weights to use to firm up your body without going overboard or doing too little.
Finding the exact size of weight to use is imperative for your results. Using the right size of weight not only elicits muscle repair for a firmer and stronger body, it also elicits physiological changes that revs up your metabolism, torching fat for as long as 72 hours after the workout. (In some cases longer).
Using the right size of weight is also imperative for strong healthy bones. Bone loss can be reversed by as much as 3 percent per year, not to mention you can stave off osteoporosis, if and only if  you use a heavy enough weight for your bones to respond by becoming stronger and denser.  (This is known as wolf's law).
So, not only will this workout create your firmer stronger body, but you'll also enhance bone density, fire up your metabolism and know exactly what size of weight to use! It's a win all around!! 
For this workout grab a weight that feels heavy, but doable. You can also grab items around your house if you don't own weights.
Then for the testing download the simple chart that will give you the exact size of weights you'll use after we've done testing.
Download the chart here: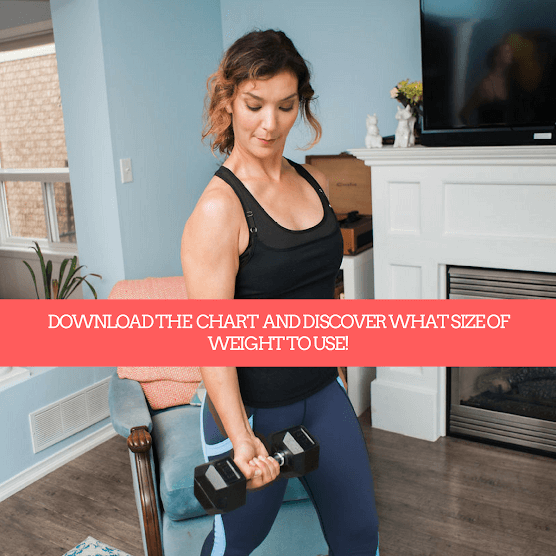 Here's a recap of what to do:
Aim  for 15 repetitions
If the weight is too light, continue until you've reached 18 repetitions
If you need to stop before we reach 15, STOP, then write down the number of repetitions you've done
Then download the chart to discover if you should lift more, less or stay the same, and by how much
To learn more about the fun test visit my blog post: What Size of Weights Should I use to Feel Firmer and Stronger After 50? 3 Simple Steps to Know For Sure