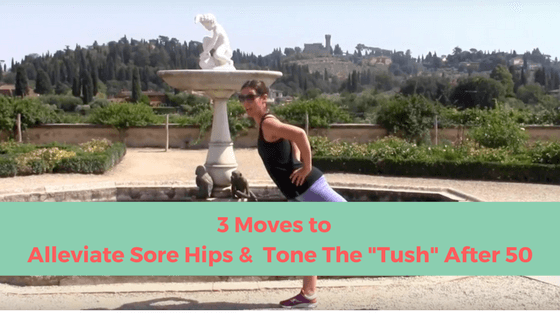 It seems as if everything we do creates tighter hips:
You sit, you get sore hips, you stand for too long, you get sore hips, you walk for too long (which is supposed to help sore hips) but, you guessed it, you get sore hips!  It seems like no matter what you do your hips get tight and that leads to pain.
It's a vicious cycle, because when the body's sore, the last thing you want to do is exercise. But small exercises that specifically target the bottom can soothe sore hip muscles and alleviate pain. 
The goal with any exercise is that you get the ultimate bang for every exercise you do. In other words, if an exercise alleviates pain AND tones a specific body part, meaning you can spend less time working out and more time pain free and fit, then you've found a true winner. 
The following 3 movements do exactly that! They tone and tighten the "Tush" (or bottom) at the same time as they alleviate sore, achy hips. The bonus is, this workout is  quick.
Why  Strengthening Exercises Soothe Sore Hips:
One of the main structures holding two bones together (at a joint) is muscle. Muscles that specifically surround a joint have to be somewhat tight in order to keep bones in proper alignment, otherwise your bones would dislocate.
Often hip muscles get tight to keep our hip joints stable when standing and walking, but that doesn't mean they're strong, in fact the muscles are often tight but weak. This completely changes the way your hips move, leading to even tighter muscles that cause pain.
Sitting causes another set of tight muscle issues that change the way our hips move. 
Sitting inhibits, or turns off muscles (such as your gluteus muscles) needed to keep our hips moving in optimal alignment and forces other muscles to compensate by making them work overtime.
While it may seem counter-intuitive, strengthening hip muscles can alleviate sore hips by giving your hips the power to move properly by "activating" or turning on muscles that were inhibited.
If each muscle functions optimally every muscle is doing it's share of the work and overused muscles that were initially trying to "do it all" have time to heal It also strengthens weak muscles that stabilize the hip and allows them to move properly.  Your movement patterns become optimal and the pain goes away.
These Same Muscles That You Exercise For Hip Pain Also Tone The Tush.
The Gluteus Medius, the Piriformis and the Gluteus Maximus all make up the different regions of your bottom that, when toned, not only make you feel pain free but also make you look great! 
The Workout:
For The Most Pain Free Option try this workout standing up on one leg instead of being on all fours. Many who suffer from hip pain also suffer from some form of knee pain too. By standing on one leg you avoid the painful pressure of the bent knee being forced into the floor but still get full benefits.
One-leg exercises "activate" the Gluteus muscles to a whole new level. The muscles of the bottom hold your hips in symmetry when on one leg and give you the highest quality of workout in the shortest amount of time.
Side Note: This month I have the amazing opportunity to coach you online from beautiful Italy. This has been a huge dream of mine not only to travel while I coach, but also to be able to create fun and picturesque workout videos that can inspire you to get fit and stay active for many healthy years to come! I hope you enjoy!
Book a FREE online strategy call with Alicia from anywhere in the world! 
This FREE call will help you map out the exact steps to give you the strength, energy and weight loss transformation you'll feel excited to try (for women after 50):