If you've ever  struggled to lose weight, to increase your strength and to take back your health over 50, then I know today's special inspiration session will inspire you.
Joining me for this special session is Judy.
At 67 years young, Judy's lost over 26 pounds and 16 inches. She's kept the weight off over the last 2 years and counting.
Today she's sharing her secrets with you, so that you too can  successfully lose weight, increase strength and feel healthy at 50, 60, 70 and beyond.
This special session is brought to you by a very special FREE workout designed by Judy and me.
These are some of the most powerful moves she used to achieve fit and fabulous over 50.
To get your hands on the FREE Workout visit: Aliciajoneshealthyliving.com/Judy or click the image below.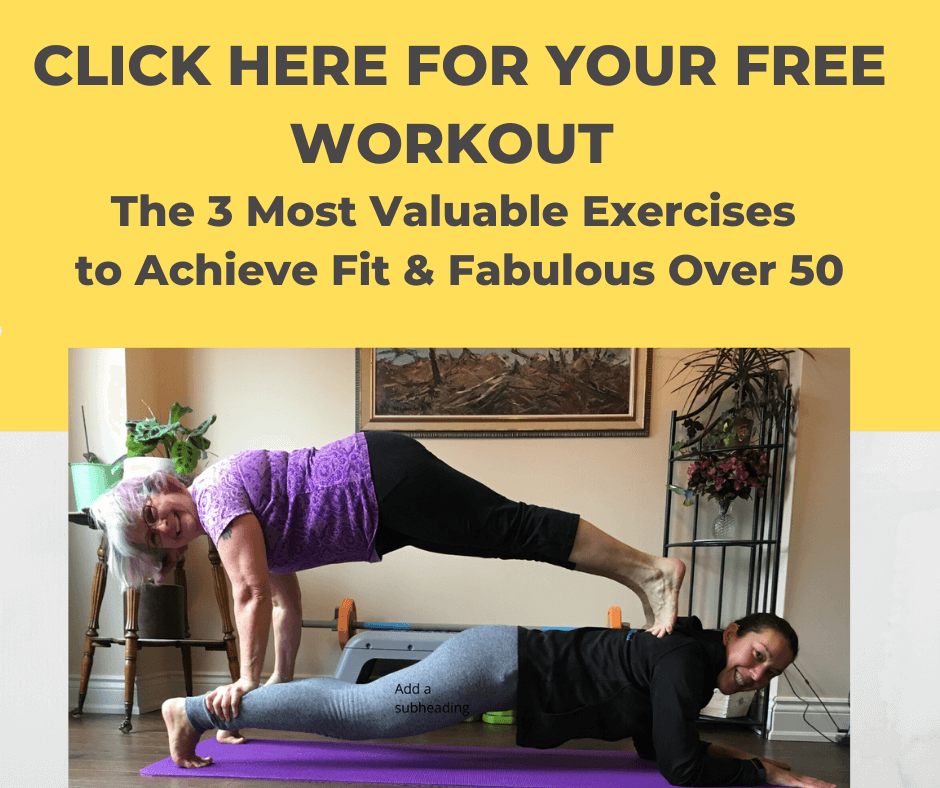 After age 50, Judy  started putting on the pounds.
Aside from being unhappy with how she looked and felt, she was concerned about her  future health.
After caring for aging (and ailing)  family members Judy started to fear her own future.
She was watching her loved ones lose their independence, their zest for life, their loss of
basic everyday joys and their freedom from pain.
She was already pre-diabetic, and had high blood pressure. Was she starting to go down the same path her loved ones experienced? 
Not only was Judy worried about her health, but she was feeling really uncomfortable in her skin.
Everyday tasks that should have been effortless, such as tying her shoes, or walking upstairs became exhausting.
She hated seeing pictures that reminded her of how she looked.
One day, on her way home from work, she caught sight of an old hunched over woman staring at her, only to realize it was her own reflection in the glass staring back at her.
She knew she had to do something.
At first, Judy tried to lose weight and get healthy on her own
She was hesitant to ask for help. She knew that coaches and programs cost money, and she was a retiree.
But another question continued to creep into her mind: "What is my health worth to me?"
She watched her loved ones' medical expenses pile up and thought about all of the bills that add up with poor health:
Can't climb stairs: an accessible wheelchair ramp or chair elevator would need to be put in
Can't get in and out of the bathtub: a new standing shower with seat built in
Medications not covered under insurance
Physiotherapy, eye doctors and so much more
She decided that the investment she made now to prevent this costly and dismal future was well worth it.
Since then, Judy has no regrets.
While Judy's over 26 pounds and 16 inches of weight loss has lasted for over  2 years and counting,
What's even more remarkable are the changes in her health. 
She's no longer Pre-Diabetic
She has so much energy, she no longer takes afternoon naps
Her new found strength has given her the stamina to meet new people on weekend getaways, walking groups and so much more
and the list goes on!
Here are The 3 valuable reasons Judy was successful at transforming her body and her health Permanently:
Weight Training: 
It's a common belief that cardio will reduce your waistline and give you the best health, but it's just not true.
Weights are a must to increase lean muscle, which increases your metabolism, burning fat faster.
More importantly it creates strength, increases bone density, firms up  muscles and helps you achieve lasting independence in your 50's, 60's 70's and beyond.
What's even more remarkable is how quickly your strength increases.
Judy had always walked, but saw weight training as  an uncomfortable sport filled with grunting men and fluorescent, glarey gyms.
Learning how to lift weights and learning how to adapt her programs to her surroundings meant she was free to exercise at home or at the cottage. She achieved strength and weight loss, on her terms.
Group Accountability: 
Judy was skeptical to participate in a group at first. It was an optional part of the program that helped her reach her results  "Over Fifty Fit & Fabulous with coach Alicia Jones".
Weight loss can be vulnerable, and she was worried. "What if I don't do well this week, and everyone else is judging me?"
Yet she decided to give a group a try, and she was so happy she did.
"To be in a group of like minded women who are sharing similar struggles and wins… it meant we were all  doing this together."
Having a supportive group of women held her accountable, kept her motivated and created a fun-loving weight loss experience.
Celebrate Your Wins: 
In the past Judy began weight loss programs with excitement. She'd follow every meal plan and never miss a workout.
Until life got in the way.
She'd feel disappointed in herself, she'd feel guilty that she "fell off the wagon" and she'd give up.
She then learned a valuable mindset shift that would drastically shape her long term weight loss success.
"Celebrate your wins" 
Life happens and it'll pull you off track. Instead of focusing on what you weren't able to do, on falling off track, on all of the negative, it's time to celebrate your wins.
This is about living life. You're on this healthy path permanently, so it's time to focus on the positive and celebrate your wins.
Judy's Final Piece of Advice For Women Who Are Starting a Weight Loss and Health Journey Over 50:
It's never too late! You're never too old. Just get started!