Do lower ab workouts hurt your back? If you're nodding your head and saying heck yes! then I've got the workout for you!
Today we're doing a lower ab exercises that count as cardio too!
I've been coaching women after 50  for almost 13 years and the lower abs (or what I've heard many of you call "the pooch" )  is one of the most asked areas of the body to work.Especially during menopause, and peri-menopause when fat deposits shift.
Your pants may feel tighter, you may feel bloated and you avoid fitting into tighter outfits because you've become so aware of how your body has changed.
I'm here to tell you you can shrink the stomach through nutrition and exercise, even after 50, and lower ab workouts just make you feel like you're really targeting that area even more.
Lower ab exercises you do standing up protect the low back because they don't add compressive forces to your back. (in other words, gravity isn't pushing down on your spine  as you flex forward).
Also, standing ab workouts allow the abs to tighten without repetitive, forward flexion. You know, the motion you do when you crunch forward.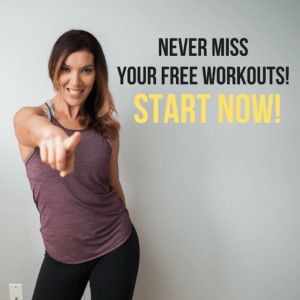 Are Standard Crunches & Lower Ab Exercises Really That Bad for Your Back?
Many in-vitro studies show that forward "crunching" motions (those of traditional standard ab exercises) cause major back pain or injury, including  disk herniation and disc degeneration. 
Although, these studies  were never conducted on humans, and didn't include important muscle that help the spine with the forces, it's still  important to air on the side of caution and reduce the amount of forward flexion or standard crunches you do.
If you suffer back pain, or currently have a herniated disk, then crunches and standard low ab exercises are a definite no go!
Workouts like the one you'll do today  involve minimal forward flexion  and not only work your core, but they'll work up a sweat and burn more calories than any lying down crunch routine ever could.
It's the tummy toning benefit without injury.
Here's another Great Benefit:
The back and abs aren't the only part of your body that will benefit.
By making this lower ab workout a cardio routine too, it'll improve your lung capacity giving you more energy throughout your day.  It also strengthens the heart to stave off heart disease.
It's a lower abs workout without back pain AND a heart strengthening workout too!
Now that's  a win, win!
One more important point to remember:
While it's a popular belief that you can exercise your stomach everyday, the muscles need at least one day to heal.
It's not only the abs that need the break, but the muscles that surround the spine need to heal too.
Over time, when these muscles are stronger, it will relieve spinal disk stress and strengthens  your back to handle everyday stressors with greater ease.
For this workout you need nothing but your own body.
So are you ready? Let's get Started!
A new season of  workouts has begun, including an exciting opportunity to join a FREE  fitness  program this fall. Click below so you don't miss out!