Today we're going to do a quick workout to tone your legs.  You'll feel this most in your tush, (or glutes) and along the sides of your legs.
We're also going to test your balance too! In fact, you'll be so focused on your balance, you won't even realize your exercising your legs!  Personally, one of my favourite ways to exercise is when  you don't even realize you're exercising because you're too focused on doing something else. It makes time go by so quickly.
Balance as well as lean muscle work similarly after 50. If you don't use your muscles, or if you don't use the balance system, you'll lose it with age.
This workout improves your quality of  balance by strengthening stabilizer muscles in your legs, your feet and your knees. It also wakes up sensory receptors in your feet. All while you exercise your legs.
When you multi-task and ad balance techniques into your workout , it also makes your exercise program much more time efficient. Not only will you increase lean muscle to burn more fat and gain strength, you'll also reduce your risk of falls and improve your quality of life.
Now that's a win, win!
Don't miss the newest workout! Subscribe to get the newest FREE workout video delivered right to your inbox. You'll also get quick fitness and weight loss tips specifically designed for women after 50: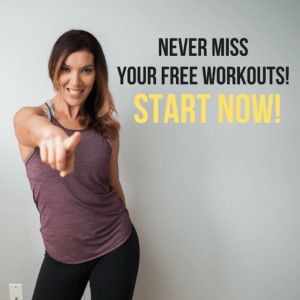 Fun Workout Tips:
For this exercise routine, take both your socks and shoes off  to liberate your feet and wake up sensory receptors that have stopped working over time.
The workout begins with a beginner fitness move, the simple one leg stand. It slowly progresses to a one leg calf raise, followed by a one leg lunge. This tests your balance from beginner to advanced. If you find one move difficult, stay at that level until you've mastered the move.
If you're brand new to balance, do this workout once. If you've been exercising for a while, progress up to 3 sets.
What level did you reach? Were you able to do all three moves?