Need a fun warm up to start your fitness routine?  Or are you searching for a low impact cardio that takes 5 minutes or less?
This fun, quick warm up was recorded during the workout program The Shape it Up Workout Series. An  8-week workout series that provides Fitness for women over 50 who are just getting back into fitness after a long time off, or who never really began.
The workout used real women after 50 (my clients)  who were just beginning their fitness journey, or who were smack in the middle of their transformation journey and needed a fitness routine that got them moving at their level and that worked for their body.
Want an easy workout to do after you've warmed up? Click here for a FREE printable workout:

The workouts moves were adapted to fit days when there'd be arthritis flare ups, tired days and high energy days.
The participants in this program have come a long way!
Watch Deb during this warm up. (She's right behind me during the workout).  This was Deb during the filming of series.
This is Deb now: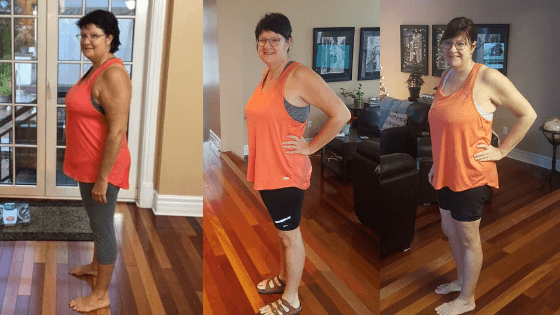 14 pounds and 6 inches smaller, Deb turned this past year into a total body transformation.
"I will NOT follow any program that takes away my freedom to enjoy a glass of wine" Deb said adamantly when we first went over her weight loss goals.
I totally agree! After all, she was doing this to enjoy life with a healthier, energized state of mind.
Deprivation may get weight loss results quicker, but it's not sustainable.
She'd been there before. Doing programs and losing the weight only to gain it all back and more.
This time is different. She didn't care if it came off slowly, but  she had to slim down on her terms. That included keeping the foods she loved in her program, going out for dinner with friends and eliminating the feelings of guilt  when work got so hectic her original fitness and nutrition plans got derailed.
Over the past year Deb's weight loss transformation has been extraordinary.
Slow and steady is the name of Deb's game!
So, are you ready to workout with Deb? 
Do this as a warm up, or use it as a quick, low impact cardio!
Have fun!
Want an easy workout to do after you've warmed up? Click here for a FREE printable workout: