3 Ways to Celebrate Your Weight Loss Success WITHOUT the Scale: (Marie's Story)
What if the scale never budged, but the inches melted away,  you were able to wear smaller pant sizes, find clothes that fit really nicely, and at the same time you enhanced your energy,  you felt really strong firm and toned…
Would you be okay with that how would that make you feel?
I've asked this question to hundreds if not thousands of women now who have entered into my programs and who have worked with me one-on-one, because if you're weight training, there's always that one point in time when that scale number tends to stick just a little bit.
For many women, no matter how much success they've made,  and how many inches they've lost, they're still a little bit sad that the scale number has not budged .
I know! It's crazy!
That scale has somehow become the emphasis (the be all and end-all) of many women's success.
That's exactly how  Marie felt.
Marie started to lose weight  through a work challenge. Then, as she was gaining momentum, she found the program Over Fifty Fit & Fabulous.
She joined because she wanted to make her weight loss a lifestyle.  No more yo-yo dieting and no more deprivation. She wanted this time to be the last time that she ever lost weight .
During the program,  for the first time ever, she embraced weight training.
She weight trained three times every single week, and if she had time she'd do cardio.
I know Marie was really dedicated because she joined the summer edition of Over Fifty Fit & Fabulous, and I think we can all agree losing weight in summer can feel hard.
She had:
Barbecues
A Taquito party
3 big vacations
The schedule is not the same in summer. It takes a lot of dedication to make deep lifestyle habit changes.
She did amazing!
Over the 12-week program ( and all of those vacations) she lost over 38 inches. She went from a size 16 to a 12
For the first time she was able to sustain her results, she was able to take vacations and still lose inches.
She firmed up, she toned, and she is looking fabulous.
So there we were at the final accountability meeting sharing all the group member's fabulous wins, when Marie said "it still doesn't  feel real"
Partly, Marie felt this way because the scale hadn't been moving (at least as much as she wanted)
With over 38 inches lost and going down from a size 16 to a size 12. marie lost 7.4 pounds
She was still going down on the scale,  but it wasn't as fast as she was hoping.
Oh, but  there are always other ways to measure your success and know with certainty you're really seeing weight loss without the scale.
Here are 3 ways Marie celebrated her weight loss without the scale. You can Do these Too! 
Take Before and After Pictures:
Inside  all of my programs, I ask that you take a before picture. Then, take pictures every 4 weeks.
When you compare these pictures, you're seeing yourself outside of yourself.  You're able to see your amazing results.
So, we put Marie's before and after picture together. There is no doubt she lost inches!  her skin was and  she looked fabulous!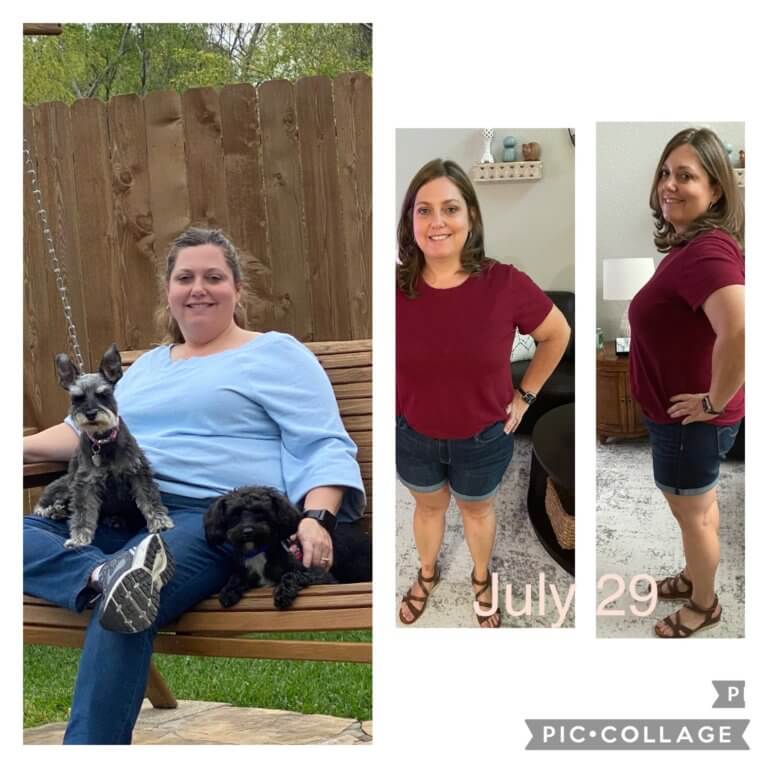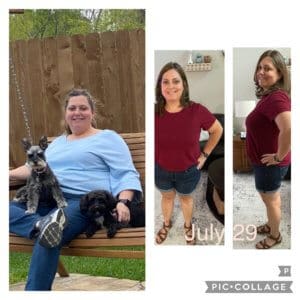 It didn't matter what the scale said, because the before and after picture said a thousand words .
2. Take Measurements
The second important thing that marie did (I suggest you do this too) is she took measurements.
If you do this too, specifically take waist measurements.
Not only are these measurements going to factor in whether or not your pants are fitting better, but at the same time your waist is the number one indicator of your health.
Remember, especially if you're weight training,  at some point you might be increasing your lean muscle mass at the same rate as you're losing fat,  so the scale numbers may stay consistent ,or drop only very gradually (for example: You may see a loss of only 0.4 of a pound weekly or 0.3 of a pound).
 Marie lost over 8 inches around her waist. She went from a waist size 16 to a size 12. There was no doubt she was losing fat.
If Marie had only focused on the scale, she could have easily believed she wasn't getting results.
So, focus on the the inches so you can better celebrate you success.
3. Go Shopping for New Clothes
This was Marie's very own strategy to celebrate her weight loss success without the scale.
Not only did she go shopping, but  she took it a step further.
She raided her closet, tried on every piece of clothing, and found a wide array of clothes that didn't even fit her anymore.
Then, she went shopping for her new size 12 outfits.
This was a big eye-opener for her.
If you've lost weight and you're holding on to your former wardrobe, It's time to try on those outfits and get that proud rush when they no longer fit. Then go shopping for your brand new wardrobe. You deserve to celebrate your weight loss success without the scale!
When to Use the Scale and When to Throw it Away
I have to admit, inside of all of my programs I ask participants to use the scale, including a 4 week weigh-in and goal setting session.
We do this because we're going to look at the overall general decline in numbers.
For example, if you see your weight going up, your inches increasing, and your pictures don't look any different, then you'll  need to make a few tweaks to ensure you're losing fat and feeling healthy.
Yet, if you  notice the inches are going down,  and the scale is just taking its time to catch up, this is a sign you're seeing weight loss success.
You've incorporated strategies that have  increased your strength, firmed up your body, and melted away the inches. It's time to celebrate!
I know it is really hard not to  focus on the scale. Marie is still working on it, and has chosen to dedicate another 12 weeks to reach closer towards her goals, without a heavy emphasis on that scale number.
I hope you will continue to to reach towards your fat loss goals, your strength goals and your healthy weight loss over 50.
The scale is not the be-all and end-all.  There are so many other ways that you can find out whether or not you've seen your success!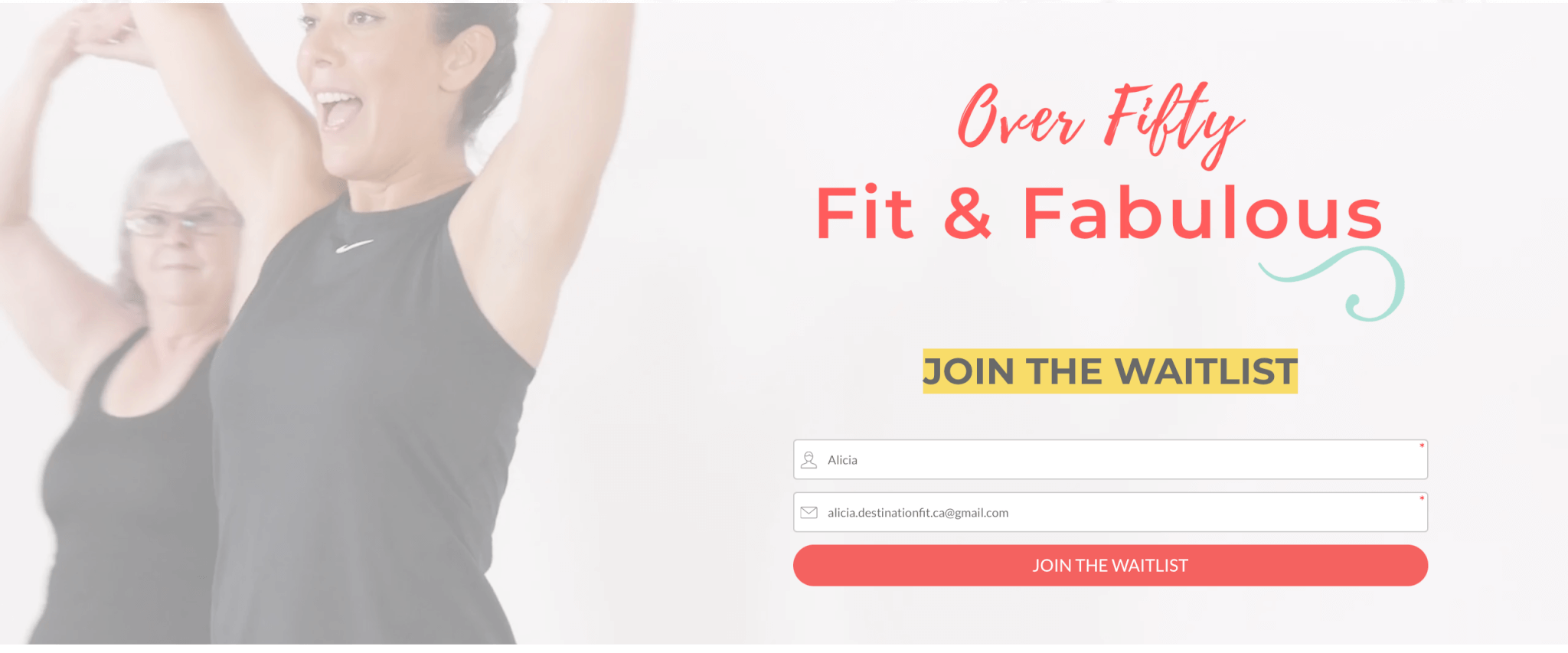 Video Highlights:
0:00 Important weight loss question you need to ask yourself
1:05 Does Marie's story sound like you?
3:16 Strategy #1 to celebrate your weight loss results WITHOUT THE SCALE
3:49 Strategy #2 to celebrate your weight loss results WITHOUT THE SCALE
4:46 Strategy #3 to celebrate your weight loss results WITHOUT THE SCALE
5:30 How to use the scale as a tool for your success instead of a punishment
6:37 Need help to get to your goals?