Today you'll do a seated upper body workout to firm and tone the arms, but, the way you're sitting will engage your tummy and back muscles. In other words, this is an upper body, firm arms and strong core workout in one!
Have you ever noticed how hard it is to keep good posture?
Because with all of the forward movements you do, such as typing on a computer, driving and carrying groceries, the postural muscles get weak and stretched out. At the same time your chest muscles become tight and pulled forward. This creates the dreaded hunched forward effect known as kyphosis.
While you may not like the way it looks, (after all, poor posture can make you look as much as 10 pounds heavier) it also affects your quality of life by increasing your risks of upper body, back and shoulder injuries.
By doing these firm arm movements while sitting up tall and the legs extended out, not only do you tone the arms, but you also  you engage the postural muscles in charge of pulling your shoulders back.
You'll also engage upper and lower ab muscles which strengthen the core and flatten your tummy.
You'll firm up the arms, and strengthen your core which in turn alleviates back pain and prevents back injuries!
It's a win, win!
Don't miss the newest workout! Subscribe to get the newest FREE workout video delivered right to your inbox. You'll also get quick fitness and weight loss tips specifically designed for women after 50: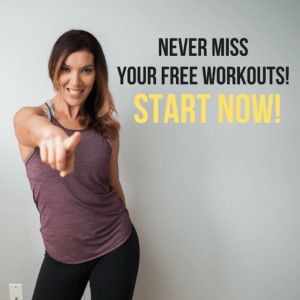 For this workout you'll need a light band. If you don't own a band try doing this workout with extremely light weights such as 1lbs, 3lbs or 5lbs (or two cans).  It's so important to use light weights until you gauge how easy or hard it is to keep good posture while performing these movements.
If you're just getting back to fit after 50, start with one round just like we did today,  then as you get stronger, slowly work your way up to 3 sets.