If you've ever wondered  "How do I tone the Back of my legs?"  and maybe at a very different time, on a very different day, you've wondered,  "Hmm, my balance isn't as good as it used to be.. how can I improve it?"
Well then, while these two  different questions may seem completely unrelated, they actually have much more in common than you would believe.
If you've ever worked out to any of my workout videos in the past, then you know my number one goal is to give what I call a "Win, Win".
It's a workout that gives you a great aesthetically pleasing result, while giving you a great health benefit all at once.
For example you may want:
firmer legs to fit into your new pair of jeans
a flatter tummy so you pass by any mirror and say "hey you! I like what I see! " 😉
while giving you amazing health benefits such as:
a stronger body to lift the grandkids (heck, or simply a really heavy turkey during the holiday season),
increased bone density to stave off osteoporosis and keep those bones strong
a healthy heart to keep your energy soaring high and you living your best life with optimal health.
The point is, my main goal is  all of the fun workouts I love to create for you take care of these two seperate, yet very connected goals all at the same time. 
After all, what's the point of looking fabulous if you don't have great health. Am I right?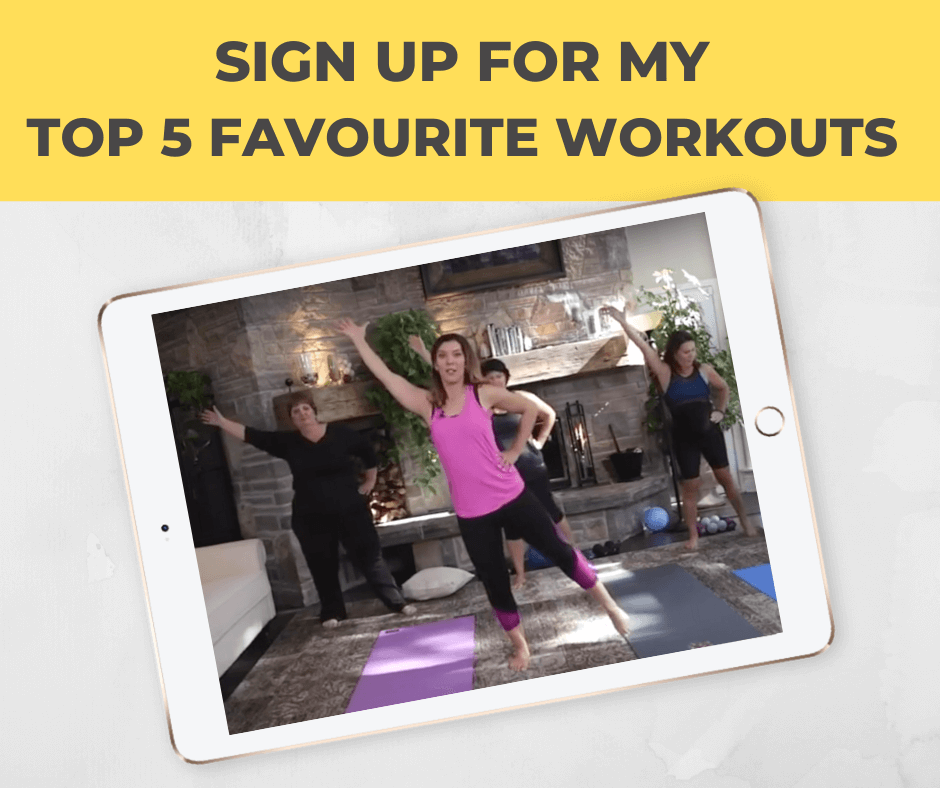 Today's workout is no different, AND on top of it, today's workout shows my absolute favourite type of workout to give you.
You see, there's one element that's missing in almost every fitness program out there, and if you're over 50, you've got to add it in. (Especially if you want to reduce your risk of falls, enhance your quality of life, and get a lifted bottom too). 
Today we're adding in that lost element.
It's balance exercises! We'll add in balance exercises  all while you tone the back of  your legs, firm up the bottom, increase your bone density and reduce your risk of falls too.
Oh wow! that's not just a win, win… that's a win, win, win!!!
During this workout, you'll see me using a band. I'll even recommend it, because the added tension places a greater demand on your muscles.
This increases your lean muscle, revving up your metabolic rate and firming up your muscles to the maximum degree.
The added tension also places a greater demand on your bones, which is the major reason your bone density stays high. Eventually you will want a bit of resistance.
That being said, you DO NOT need a band if you don't have one, or if you're newer to balance and it's already a challenge to stand on one foot.
Either way, you're working at your level and achieving the health benefits and the firmer, stronger, healthier body, you want!
I can't wait to hear how it goes!
One More Quick Note Before You Get Started: 
If you're just starting out with balance exercises, first click here and to try this beginning balance routine .
Some more Valuable balance routines to get you ready for this one include:
Sign Up For My Top 5 Favourite Workouts You can Do In 10 Minutes or Less. 
(They tone the body, and increase your health all in one. It's a Win, Win!)