Today you'll tone and firm your legs without squats or lunges that can sometimes aggravate your knees (especially if you have arthritic flair ups, or lingering knee injuries).
This quick and efficient workout has 2 more amazing hidden benefits:
1. You'll Strengthen and Tighten Your Low Abs:
My favourite exercise in this workout is the seated leg raise. You'll feel the muscles in your thighs as you simultaneously target the low abs.
During menopause the lower part of the tummy becomes harder to get rid of due to hormone changes.
Along with a healthy eating plan, you may want to add low ab exercises to really feel like you're flattening the tummy and targeting your problem area.
The problem is, most exercises that tone and strengthen the lower portion of your tummy usually give you back pain. For example, those lying down leg lifts  that are most common to work low abs may arch the back and create back pain or back injury.
This makes the low ab region one of  the hardest areas to tone.
By sitting up tall and tightening your tummy muscles while performing leg lifts, the low abs engage without putting undue pressure on your back.
You'll tone and strengthen your lower abs  while you tone your legs too! 
 Subscribe to get the newest FREE workout video delivered right to your inbox. You'll also get quick fitness and weight loss tips specifically designed for women after 50: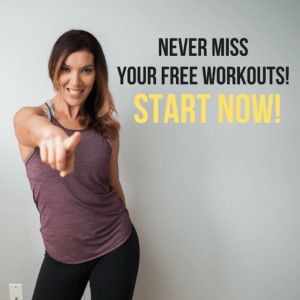 2.You'll Improve Walking Function (Your Gait): 
Of course there's an added health benefit too, after all, this is all about  feeling your best and looking your best too.
As you do these exercises, focus only on moving your legs and nothing more. This improves your ability to walk with ease by teaching your body to move in segmental movement patterns.
In other words, your hip and leg joints will learn how to move without asking your back or knees to take over the movement.
This is especially important to keep mobility and reduce your risk of falls and injury as you age. It also teaches your body how to move properly without recruiting unnecessary muscles that often get overworked, and with time become damaged or strained.
So, as you can see, this very special workout is a win, win win! It's a win all around!
If you're just getting back to fit, start with one round (as shown in the video). If you've been doing this workout a while, work your way up to 3 sets.