Today we're going to do a low impact cardio workout designed for the beginner getting fit over 50. This workout  also includes easy strength training moves in between.
Low impact cardio workouts are a great way to get your heart pumping and torch calories all while improving your health.  
There's another major benefit from choosing low impact over high impact cardio. It's easy on your joints.
Not only do high impact workouts tend to include jumping and pounding which inflames arthritis, and causes joint pain, but, when you're just starting out after a long time off (or starting an exercise routine for the first time ever), high impact options can also feel so hard, and so taxing that slowly you begin to dread the workout. 
That's a huge danger sign! If fitness doesn't feel enjoyable and fun there's no way you'll stick with it.
Exercise can be low impact, easier on the joints and feel enjoyable while you get that good sweat and feel like you've had a good workout.
During this week's workout, I add strength training moves into the low impact workout too.
By adding strength training, you'll start to build lean muscle which is in charge of revving up your metabolism and increasing your strength.
You'll also increase lean muscle that surrounds the joints. This supports the joints and alleviates the work load your joints take on. This also helps reduce joint pain, enhancing your quality of life.
It's an extra special win, win!
For this workout you'll need your shoes:
If you've watched my workouts in the past, you'll know I rarely recommend wearing shoes. In fact, I tend to suggest going barefoot while doing bodyweight exercises,  but because we're paying special attention to reducing as much impact as possible, today I suggest footwear to help absorb further impact.
You'll also need light weights:
1lb-5lb weights are as high as I suggest going for this workout.
Using light weights will keep you injury free and keep your heart rate up.
So are you ready, let's get started
Don't miss the newest workout! Subscribe to get the newest FREE workout video delivered right to your inbox. You'll also get quick fitness and weight loss tips specifically designed for women after 50: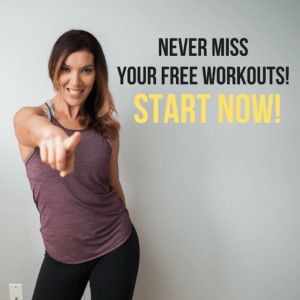 Let's Do this together! Join the Get Back to fit After 50 FREE Facebook Family and get community motivation and support everyday! Clickhttps://www.facebook.com/groups/getbacktofitover50/
If you liked this video and want more fun free workouts and quick tips to Get Back to Fit After 50 Subscribe to my youtube channel: http://bit.ly/ajhealthyUtube