Not losing weight?
If you're experiencing a weight loss plateau over 50,  the scale is bouncing up and down, or the pants feel loose one day then tight the next, it can feel really frustrating, annoying, defeating!
Especially if you've been  making  conscious changes to the way you eat, or adding in more movement, and there's still no change in fat loss.
But I promise, there is always a solution, and a healthy solution at that!
One that doesn't involve strict deprivation, reducing calories to a torturous low amount, doing injury ridden workouts, or cutting out healthy (and delicious food groups).
It usually boils down to a few simple answers to these 3 simple questions.
Today we're going to go through the 3 most important questions you need to ask yourself if you're not losing weight over 50.
I'll also give you action steps so you can lose inches, feel strong and healthy all at the same time.
If you've answered all of these questions in a way that shows you should not be experiencing a weight loss plateau then you can always get more support from me and a group of fabulous women inside of my signature program Over Fifty Fit & Fabulous. The Self Study Edition is Open For a Limited Time. Click here to learn more.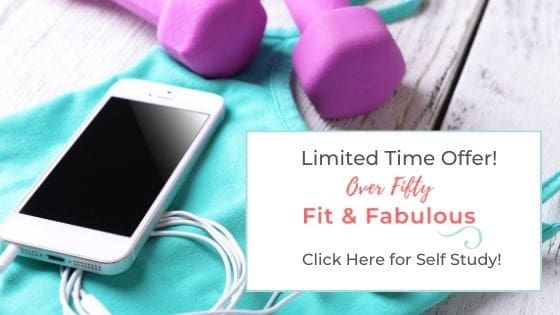 The 3 most important questions you need to ask yourself if you're experiencing a weight loss plateau over 50 are:
1. How long have I been consistently eating well?
When I ask a new client or a new participant in Over fifty Fit & Fabulous, "How long have you consistently been eating well or exercising?"
They tend to share that while they eat fairly healthy, their weekends tend to be more sporadic.
Maybe:
There are more events on the weekends and the weekly game plan gets thrown out the window.
They realize there was a night or two when they got home late from work, so they threw something together quickly or ordered a pizza.
As they were throwing something together, they were hungry, so they ate a handful or two of chips while they made dinner.
The point is, when looking back on how long they've actually been consistent and how long they've  been truly mindful of what they've been eating, it actually hadn't been that long.
They either never created a pattern of consistency, or they've only just started to be mindful over the last few weeks.
So, my question for you is how long have you been consistently eating well?
 Let's set parameters so we know with certainty you've been consistent.
 Are you logging your food and logging everything you eat? (Even that 1 chocolate or that small handful of chips you may have eaten while you cooked?)
You may feel that logging is tedious at first, but the only way to truly know if your plateau has to do with an inconsistency in food is by logging.
So, start logging. It's important, at least at first when trying to push past the weight loss plateau.
2. Are you weight training consistently?
Are you consistently weight training 2-3 times per week every week.
If you say yes, or you say no, both of these answers could be the reason you're not losing weight. 
Yup, that's right! Both answers. Let's dive in deeper as to why:
For maximum fat loss, and to rev up your metabolic rate so you burn more fat over 50 (even when you're resting and not working out) you've got to weight train.
For every decade after adult life (around 25) if you do not use your muscles, you risk losing 3% of lean muscle each decade.
Muscle is highly metabolically active so,  because you lose your lean muscle, you lose the metabolic, fat burning potential it holds.
This means that if you're not weight training over 50 and enhancing lean muscle growth, you're losing lean muscle and in return, not only are you at risk for fat gain, but it also becomes so much harder to lose fat due to this decrease in metabolic burn.
So, a simple way to push past your plateau over 50, is to weight train 2-3 times per week.
So, are you weight training over 50?
I did mention that your answer was a bit tricky.. because if you also answer, "Yes, I do weight train." you may see a weight loss plateau.. . let's go through that now.
If you weight train, and you've consistently been weight training for 6 weeks or greater and you use the scale as your main tool to measure weight loss, that scale may get to a point where it does not budge…. In fact, depending on the frequency you weight train, the scale may actually go up..
BUT, it's not because you're not losing body fat, it's because you may be enhancing lean muscle growth at the same rate or greater than you lose body fat, and your scale is not differentiating between fat loss and weight loss in general.
In this case you have 2 options:
You can get a scale that actually accurately measures your fat loss such as a Tanita, a Fit Track, or a weight watchers scale
OR you can start focusing more on waist measurements, either by occasionally trying on a pair of pants that fit snug, or by occasionally measuring your waist with a measuring tape and seeing if that number comes down.
3. What is going on in your life right now?
So, let's say you weight train, you consistently eat and log your food, AND you've been measuring or using a fat loss scale, but you're still not losing weight.
Well, that takes us to question number three. What's going on in your life right now?
Are you experiencing a busy time at work, maybe there are a couple of deadlines you need to get done?
If so, your stress levels may be higher which makes it harder to lose fat.
In fact, during stressful times, you may notice the scale bounces up as you crave, store and potentially even eat more carbohydrates. (and your body can only store so much before it's converted to fat).
Or Maybe:
You're not sleeping well,
Arthritis is acting up
You've experienced a recent injury
OR yesterday you did an exceptionally difficult workout?
Lack of sleep, arthritis and even hard workouts have one thing in common, inflammation and potential fluid retention.
If you're using the scale as your only method of gauging your fat loss success, it may be that this tool is showing increased water or fluid retention caused by inflammation, and even stress.
The best thing you can do during times of physical or emotional stress is to follow tactics that reduce inflammation and enhance sleep quality, not only so you sleep well, but so you in turn reduce stress further to release fat and suppress pesky carb cravings.
So, there you have it, the 3 important questions to ask If you're experiencing a weight loss plateau over 50, and if you're not losing weight, the action steps you can take to get fat loss results.
And, if you can honestly say you're doing all of these things and it's still not working, it may be time to ask for help.
You can join  Over Fifty Fit & Fabulous which is the only program of its kind uniquely designed for women over 50 who want lose belly fat, increase strength and take charge of their health without lengthy, exhausting workouts, restrictive meal plans and the dreaded feeling of falling off track when life happens) 
Click the link below to learn more.  I'll be waiting to answer all of your questions inside the private group. https://aliciajoneshealthyliving.com/ready