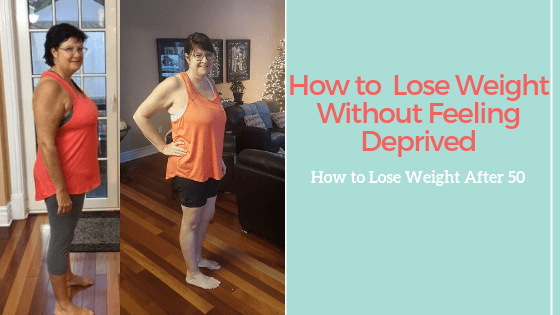 When starting to lose weight, there's only one simple question that will define whether you stick to it, or quit:
Is this something I could do for the rest of my life?
The answer has got to be a flat out YES!
After a lifetime of "dieting" this advice probably sounds like a broken record. You've heard it countless times before.
but you'd be surprised!
New clients often come to me when they've finally hit their breaking point. They've been  feeling exhausted for weeks or months, their body's feel so heavy they feel they're walking through mud.
And every year they've got to buy a new wardrobe because last year's clothes just won't zip up.
There comes a moment when a switch flips. They  want the feeling to go away and they want the weight to go away NOW!!
In many cases, this is when all reason goes out the window and ideas on how to lose weight becomes about fixing the problem NOW!
Ideas of fad diets creep in. Whatever will work right!? 
Fasting (not eating for days), detox's (only eating sludgy green juice) and High protein, low carb (ugh, eating nothing but meat) start to sound like interesting strategies.
And the answer to that  simple question "could I do this for the rest of my life?"  No longer becomes a full-out YES. Instead it starts to sound like a rationalization: 
"Well, the program's only 3 months, I can stick with it for 3 months"
"I know I SHOULD BE doing it this way, so I'm going to give it a try"
" Well, it's working for my friend"
the problem is, if you're not eating the foods you love, you'll start to feel deprived.
Not to mention, with your busy schedule, following rigid rules and strict eating times will only lead to more feelings of failure when self defeating thoughts start to creep in like:
I just can't do it anymore.
I have no willpower.
It's just too hard to be thin.
So, the best way to lose weight, to keep the weight off and feel proud of yourself for continuing on your weight loss journey is to make sure you're eating the foods you love.
You might be wondering how to do that especially if your favourite caloric or plain out bad for you.
(I totally get it. My love for Lindt chocolate and creamy pasta is all too real).
There are a few simple tactics you can use to continue
1. Decide How You Prefer to Treat Yourself: 
Do you want a small piece of chocolate everyday, or do you prefer to have 1 big treat meal?
If 1 simple treat is all you need each day, then go for it! On weeks you know you've got a big event, save those nightly treats for the end of the week instead.
Download Your Treat Personality Sheet to Discover the Treat Tactic That Best Suits You.  You'll Slim Down Without Guilt or Deprivation.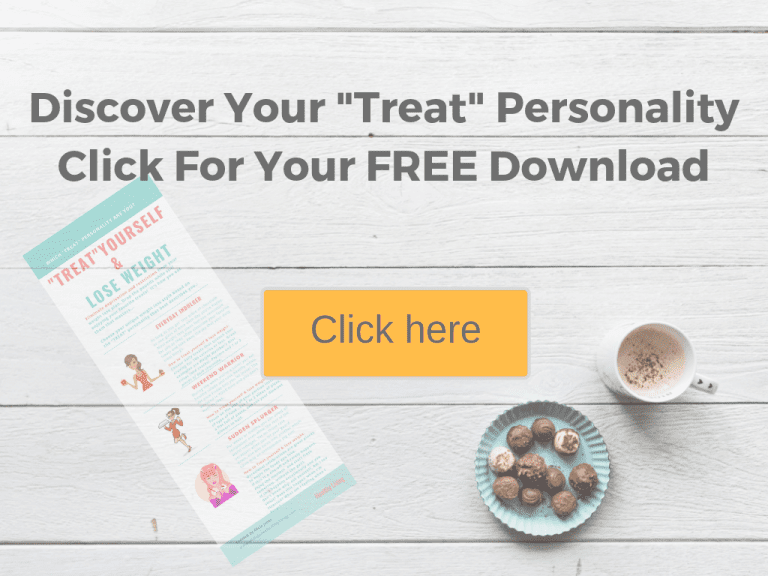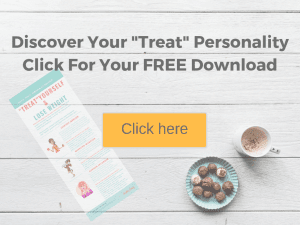 2. Decide on Your Dealbreakers and Never Give them Up:
Whether it's a piece of chocolate, a mini bag of chips, or a glass of wine, know the foods your refuse to give up and don't back down.
This is the number one tactic Deb used to lose over 14 pounds and 6 inches. 
"I will NOT follow any program that takes away my freedom to enjoy a glass of wine" Deb said adamantly when we first went over her weight loss goals.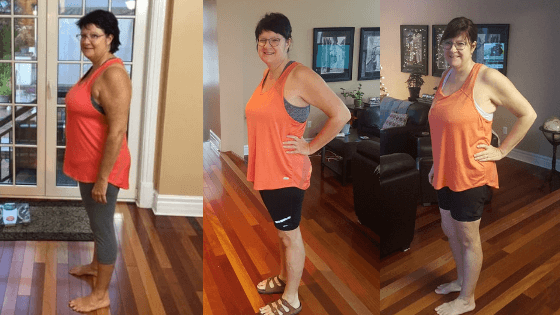 You can lose weight without feeling deprived, and not only enjoy the journey but feel so proud of how far you've come.
Deb's been getting ready for the holidays. Recently she proudly bought a new pair of classy glitter pants for the occasion.  She fit into a brand new size she hadn't been able to wear in years and she was beaming.
She'll be wearing her glitter pants to the  next holiday party where of course she'll be enjoying a glass of wine.
When it comes to your dealbreakers, it has more to do with how and when you choose to eat them.
Of course you won't be able to eat a whole bag of potato chips or eat an entire plaque of chocolate. It's more about  choosing a moderation plan that best works for your personality. 
Download Your Treat Personality Sheet to Discover the Treat Tactic That Best Suits You.  You'll Slim Down Without Guilt or Deprivation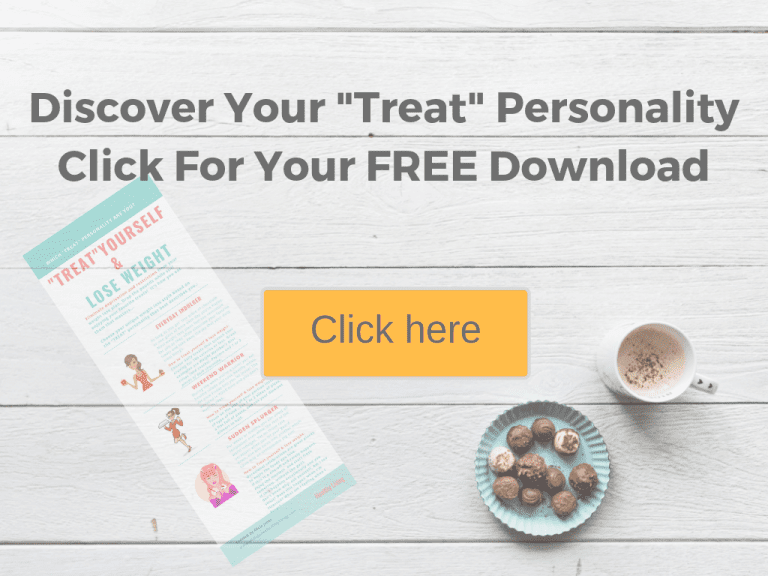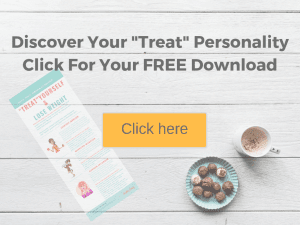 3. Set Realistic Goals. 1 Pound a Week is a Great Start:
Nothing feels more defeating than setting a goal you don't make. We've all been there. It makes us feel like a failure don't you think?
The thing is, we're really good at overestimating how quickly we'll reach our weight loss goals.
I think it's because we really want it so badly, also we don't take into account those factors of life getting in the way.
The truth is, a healthy, long term weight loss is only 1-2 pounds per week.
Not only will this make sure you never feel hungry or deprived, but it maintains your lean muscle mass, which keeps your strength and metabolism high and gives you the time to adopt a new habit that's helping you slim down your waistline.
To Wrap Things Up:  You can absolutely enjoy the foods you love and lose weight.  The first step is to figure out how you like to enjoy your treats. (all in one sitting or a moderate amount each day).
Once you've figured out your treat style, figure out which foods you never want to give up and add them in. You will lose weight. Start with the simple goal of 1 pound per week for your best and lasting weight loss success!